Yesterday I screwed up major time. My feeling purple did not survive through the day. It faded as the amount of people around me increased. I hate not being able to manage social situations. I'm very disappointed with myself.
The dinner went well. I took 2 more Neurontins before it started (Rx: up to 4x a day). Our group sat at a table – and suddenly a crowd of frat boys swarmed in. They were reps of the other university, with which we have a rivalry. I've never seen such stereotypical Harvard-type frat boys. I felt naked under their snobbish scrutinizing eyes, and being one of the two girls in the room didn't help (thankfully more came later). I was expected to pleasantly converse with them as they overtook our table, but instead I wanted to crawl under it and pretend not to exist. When I have at least one person I know, I don't freak out as much, but my friend, SR, stuck in traffic was running an hour and a half late. Before the actual ceremony started I ran to the bathroom and took 1 pill of Seroquel. It calmed me down and my hands weren't shaking when I was receiving the certificate of appreciation. Our school won by collecting 331 pints of blood (1 pint can save up to 3 lives) and I am very proud to be a part of it. Yes, I'm a Red Cross geek. Donate blood, everyone!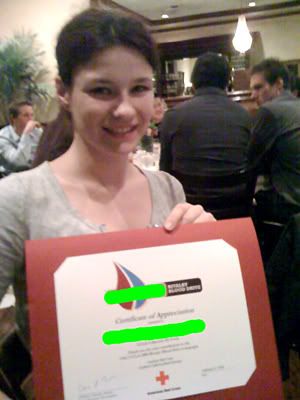 neon green – classified info, haha
horrible picture taking skills, courtesy of SR
Leaving right before desert, SR and I went to hang out around the town. I was feeling calm but tired. My mind was blank, just a vacant space between my ears. The day drained me. At some point static began to arise in my head, an unrecognized disturbing congestion of thoughts, and I quickly popped another Seroquel. I did not want to leave the numbing empty state of being. Prescription said to take up to 2 pills per day, but I didn't ask the doctor if I may take it in combination with Neurontin. In the end I passed out in the back seat of my friend's car.
Now, I know I put myself in a precarious situation. What would you do if you were a guy and had an unconscious girl on your hands? You would drive her home and hand her to her parents, of course! You would never even think about touching her inappropriately. Is it considered a rape when the other can't say no? I've know SR for a long time, and even though we had a very tumultuous relationship (where I've been a bitch in a number of ways you can't imagine), I trusted him. In fact, I'm overly trustful with my body. A number of times I've stayed over at a friends' place, drunk and stoned sleeping in the same bed (!) with a guy. It seems like I'm just waiting to be taken advantage of.
Maybe it has something to do with V, my mother's step-brother, who when I was 8. I know it influenced me, shaped me to be what I am, but I have no feelings towards recollection of those events. It is just an blank separate space in my mind. The only person I told about it was KF. I told him so many things I've never told anyone. Now that he left, my dark secrets left with him to roam the world. A part of me broke off and left, abandoned me. I hate him and I miss him. Or do I miss the intimacy between us, this bridge between our souls? I miss our physical connection, spending the day just cuddling. I miss our sex. I miss so much; I'm scared of this feeling. Never have I required someone to make me complete. I've always seen myself as an independent self-sustaining person, needing not love but peace of mind. Now I'm just broken. Broken and abandoned. Broken and abandoned and seeking to be broken even more. How pathetic!
I spend Saturday sleeping off the effect of the pills instead of going to CPR/FA class. MS will be mad with me, but fuck him. I know he wants to get into my pants so I just fuck with his head. I have too many fucking problems. Fuck me.